damaging metals + minerals
When your clients wash their hair, the water often has some level of trace metals + minerals in it—depending on where they live this can range from low levels to extremely high (you can assess the water in any area here). And you probably guessed it—these metals + minerals can have negative impacts on their hair health.


Metals + minerals can wreak havoc on your salon services + products, dull your client's color, and weigh down their hair. Especially if they have previously damaged or chemically-serviced hair—which a lot of them do.
You can spot the signs like dull, discolored, or hazy color, and if your client's hair feels rough, dry, and brittle. Another clue is asking if their haircare isn't working like it should during your client consultation. This could be metal + mineral buildup blocking their products (like K18) + your salon services from doing what they need to do.
We know you're curious, so here're what the most common metals + minerals are doing inside your client's hair, right now.
Psst…the K18 PRO chelating hair complex removes these, but more on that later.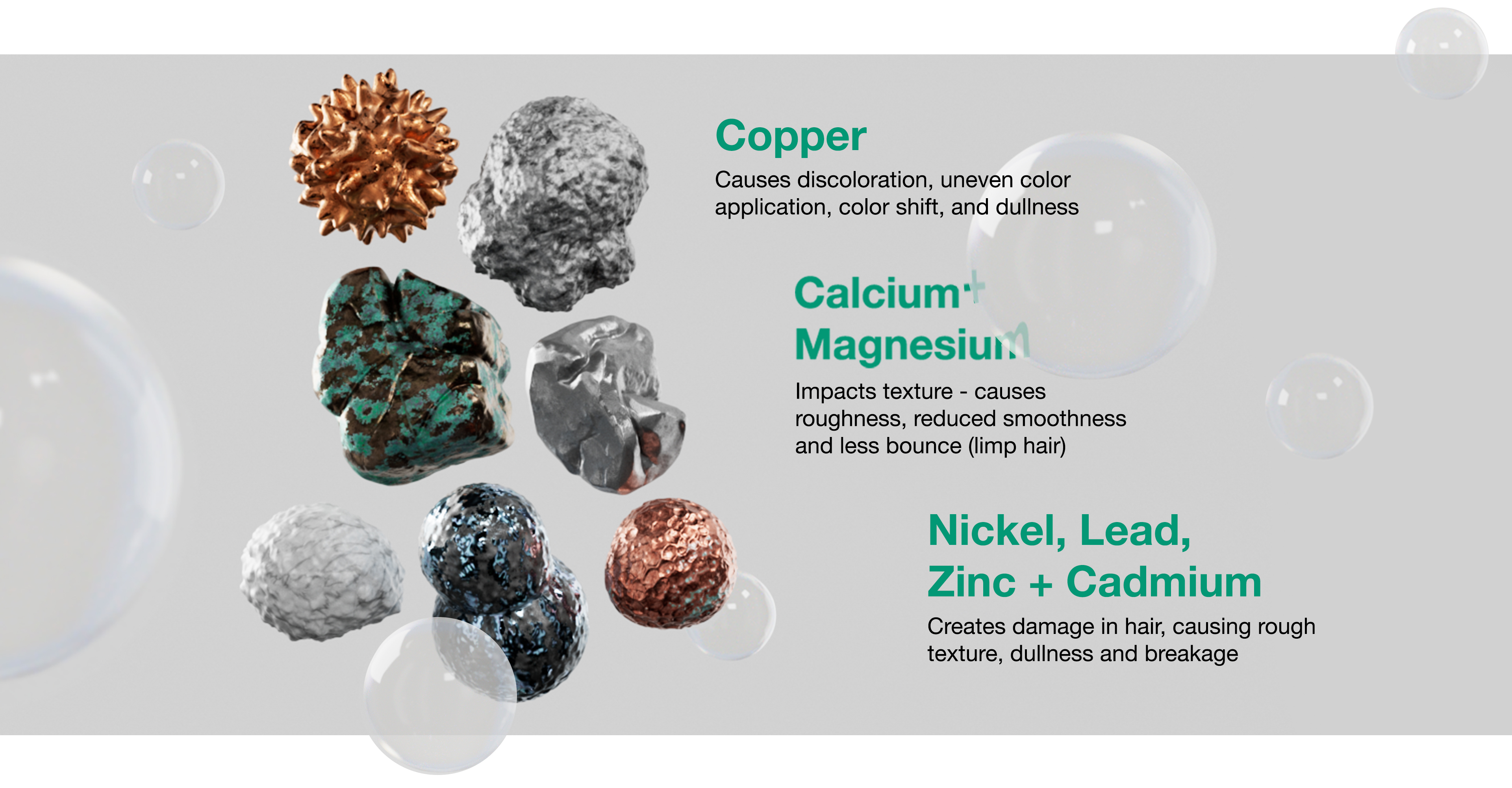 They may look pretty, but these metals + minerals create unwanted reactions with chemicals in your salon services. This can leave some not-so-nice surprises behind like uneven color or in the most extreme cases, hair disintegration. Yikes.
the fix
We wouldn't tell you all this without coming with a solution. Maybe you've heard of it as demineralizing (see how mineral is in the name), or not heard of it at all. We don't blame you, the typical 15–60 minute wait time and extra rinse make removing metals + minerals a hassle for you, and your client so you may not be demineralizing as often. Our mission is to change all that.
We engineered a spray-on formula powered by a cocktail of 5 chelators that bind metal ions by forming a molecular cage around them, securing + trapping them to easily rinse away from your client's hair (so you avoid those nasty reactions and damage like we mentioned earlier).
Here's a closer look into how they work in our PRO chelating hair complex.
This next-level refresh is clinically proven to reduce 7 common metals and minerals (yeah, the ones we mentioned earlier) in just 4 minutes*. Our proprietary cocktail of 5 chelators and an antioxidant peptide acts like a magnet to attract and neutralize metals + minerals—delivering double the protection against reactive damage. And we made it an easy 4-minute spray format for less steps (read: faster appointments), and less wait time, so you can make more money.
Now you can get optimal service + product results on your client's most vibrant, soft, and bouncy hair—regardless of water hardness. You already know clean hair is healthy hair and makes the perfect canvas for better service + product results (like K18) and boundless creative expression.
chelating in the salon
Here's how to chelate before every service (including the PRO service) with a faster, more convenient format, without sacrificing efficacy. It also works as a standalone treatment to refresh your client's hair in-between chemical services.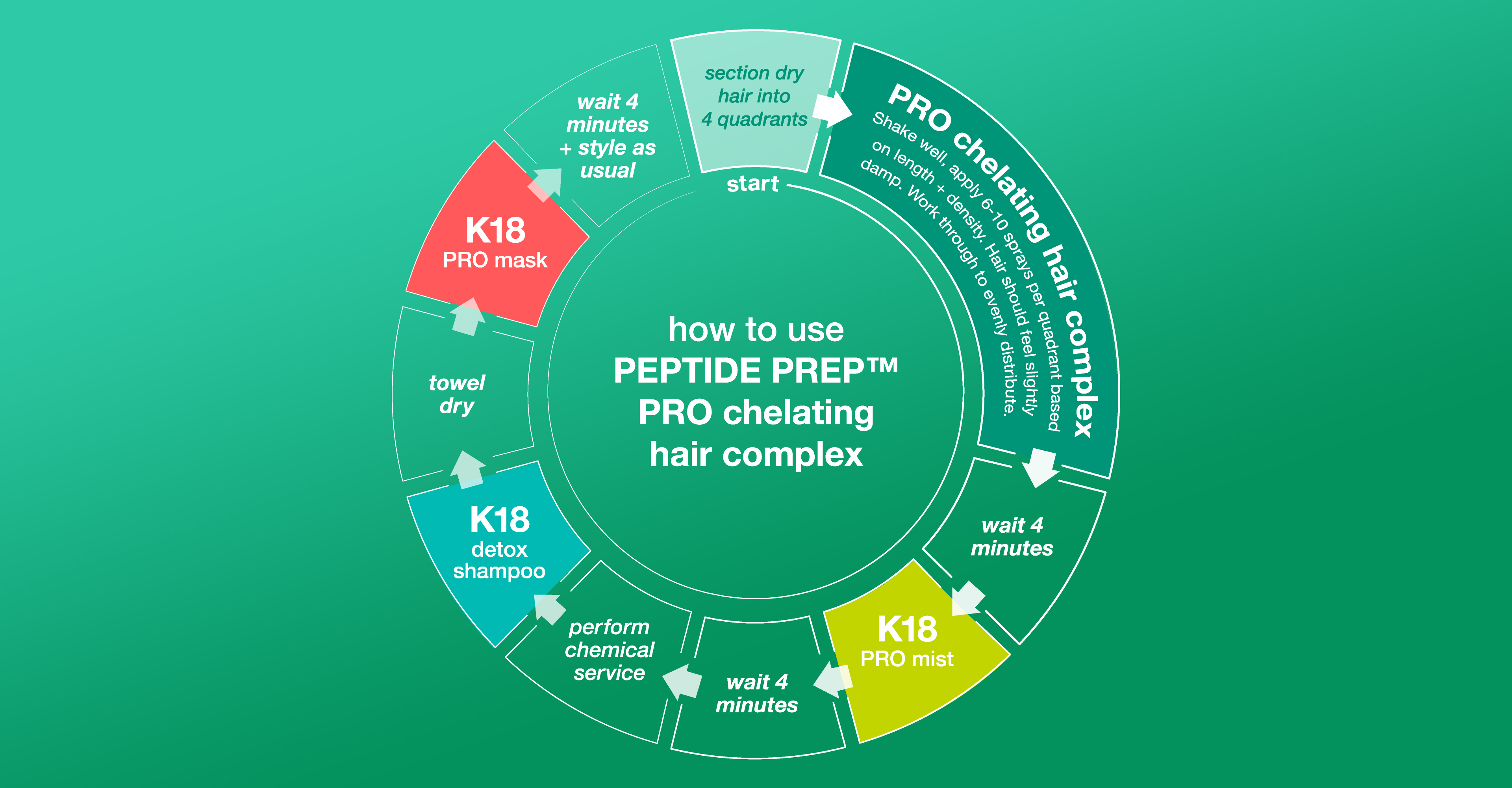 Engineered to work with the PEPTIDE PREP™ detox shampoo, this clean hair dream team removes buildup, metals + minerals for your client's cleanest canvas and maximum molecular repair results. With the PRO insurance by your side, you can feel more confident knowing you'll get optimal service results on every client—without any surprises.
See ya soon for more FUNdamentals.
*results observed on bleached hair tress with hard water buildup after 4-minute application of chelating complex